How To Apply Henna And Natural Hair Colors On Hair Application Process
STEP 1: Preparation
Required these following things
1) Take the substantial quantity of the henna color powder as per the hair length.
2) Shower cap or plastic wrap to cover hair.
3) A pair of gloves
4) Comb
STEP 2: Making the Paste
1) Mix henna powder with slightly warm water as per 1:3 ratio.
2) One portion of henna color should be combined with three parts of warm --water to get the desired consistency.
3) Make the paste so thick that it can be easily and gently applied to hair. --Paste should not be too thick or too thin and should be applicable easily --on the hair so that it will not fall down.
STEP 3: Application on hair
1) Apply the paste from the ends to the tips of the roots. with a brush, comb the hair after five minutes so that the paste should --reach the roots of the hair.
2) If any grayness is observed, apply more paste on that portion. Pay special attention to the hairline.
3) Ensure that the color paste is completely applied to the hair.
4) Take a plastic wrap or shwer cap and cover your hair. Wrap it well all the way around your hairline without covering your ears. --This wrap will help the henna to set as the cling plastic will keep the henna warm and moist.
5) It takes around 1 hour for the henna to set. But you can leave it a little bit longer for a more vibrant color.
STEP 4: Rinse out
Rinse out completely with normal water only. Use shampoo and conditioner after removing henna.
Recommendation:
1) Before applying the hair dye paste, always wash your hair cleanly with shampoo and dry hair properly. do not apply any --conditioner.
2) Henna is always best absorbed in clean hair. There should be no dirt, grime, or oil in your hair.
3) This way the henna will stay longer in your hair and the color would develop more properly, otherwise, if your hair would be --dirty the henna molecules will not make the proper bond with the natural hair oil, and the color will fade away within a week.
Things to Remember Before Using
Natural Hair Colors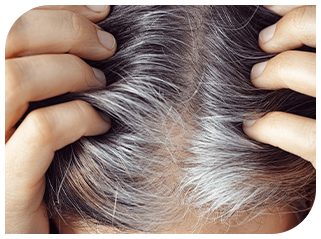 1
Grey hair may take multiple applications for the truest color. In the beginning use 3 times in a month for the best result.
2
If you have severe allergies or sensitive skin and scalp, do a patch test before using the dye. (Recommend)
3
If you have recently applied a chemical hair dye to your hair, please wait for at least 1 month before using natural colors.
4
Natural hair colors are semi-permanent hair colors and their vibrancy may last up to four weeks before gradually fading.